Retail Sales, perhaps the broadest measure of economic activity, have been weak across the globe recently.
The weakness, of course, poses the question – Is the weakness a sign of some bad times ahead?
Below is a chart of what the price of gold has done when Retail Sales have come in with 3 consecutive months of declines.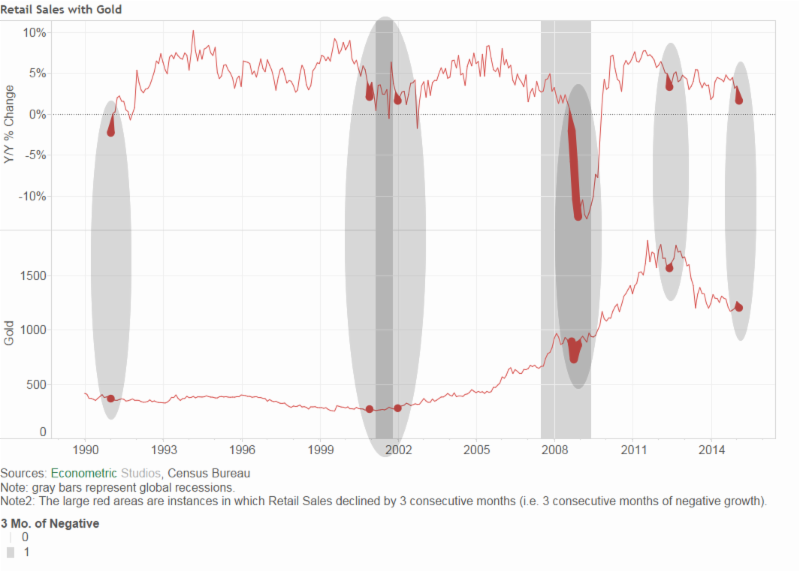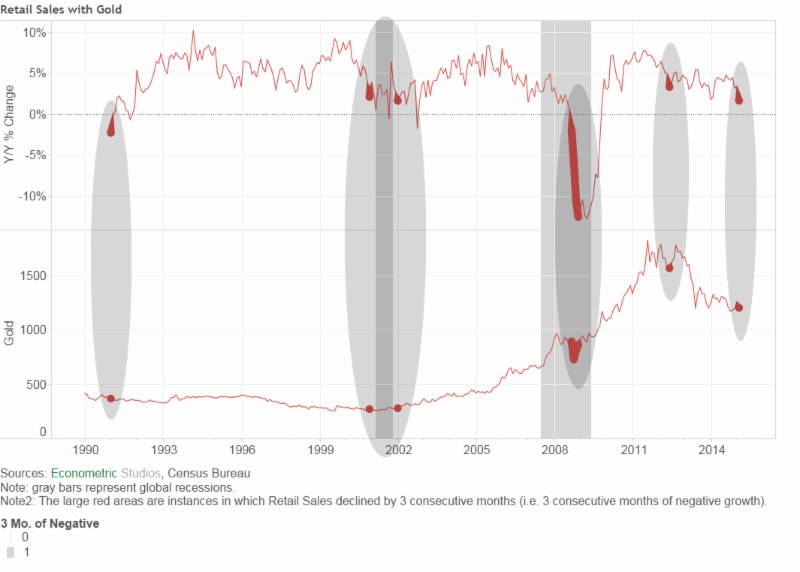 The first instance happened in the early 90s. Interestingly, the gold market only marginally responded to the Retail Sales concern.
The second gray, oval area occurred around 2002. When Retail Sales experienced turbulence in this period, gold jumped, continuing on a relatively strong boom for some time.
The third instance of 3 consecutive months of Retail Sales declines occurred during the global financial crisis. Unsurprisingly, gold performed quite well after the realization of the incredible weakness in the global consumer.
The fourth instance occurred in 2012. Interestingly, immediately following the digestion of the state of Retail Sales, the price of gold performed relatively well, only later to be dragged down by other indicators.
The fifth instance, having occurred only just recently, has not really been digested by the gold market yet.
If the previous instances are any indication, then there is a 67% chance of the price of gold materially appreciating in the coming months.
We shall see if the recent Retail Sales figures around the globe turn out to be reliable indicators of where the price of gold is going, at least in the near term.
---
AU Trading LLC
145-157 St. John Street
London, EC1V 4PW
Telephone: +44 (0) 207 993 6275 | Facsimile: +44 (0) 203 163 1862
Email: [email protected] | Website: www.autrading.co.uk